Stop Weight Loss Sabotage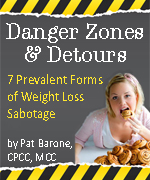 Want Permanent Weight Loss? Want it to be Easy?
Well, it can be, when you understand The Truth About Permanent Weight Loss!
I wish I had this kind of concise, valuable, documented information available to me when I was making the biggest change in my life! In this audio seminar course you will:
Find out what type of activity makes MORE fat!
Discover how the body actually sheds bodyfat? (Prepare yourself, this will shock you!)
Learn the key principal you must respect if you want to achieve long-term results!
Design a plan that's uniquely suited to your body!
End the diets that destroy your metabolism today!